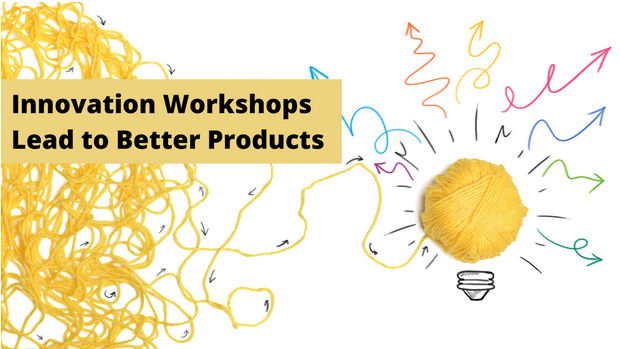 As a product owner, it's important that you're always leading the team through product innovation ideas or your product can quickly become stale and boring! Without true innovation, your team just builds and builds, but doesn't get to use their brains creatively, which can stagnant product innovation.
In this article, we'll explore ways that you can lead your team through innovation techniques beyond roadmap planning and Scrum.
Aligning on the Product Vision
Before you can truly innovate, you must have shared understanding of the product vision with your team and stakeholders. To gain alignment on the product's vision effectively, bring together a few key stakeholders, along with the Scrum team. The key to success here is collaborating on this activity together.
A fun way to get to this is to create a virtual whiteboard and have people brainstorm with sticky notes answers to the questions, "Why does this product exist?" and "What positive change does it bring for customers?" These answers can then be consolidated to come up with a compelling vision statement that everyone buys into.
A few example vision statements are:
"Frameable art that brings people's memories to life in a large, compelling way."
"A police hub where citizens can get help instantaneously."
"A place where people can design shoes that showcase their unique personality."
Creating a Vision Board
Many of us use vision boards to set our personal goals for the New Year. This can also be a useful technique for envisioning the future state of your product. After all, you don't know where you're headed until you understand the current state. Product management guru Roman Pichler has a great Vision Board template that you can download for free.
This template is a great way to start generating ideas for your product. Gather your favorite stakeholders and any volunteers from your Scrum team that want to participate. It may also be helpful to have representatives from Sales, Marketing or Customer Service present as they can offer another perspective.
Begin by thinking through target customers. Using an interactive tool like Mural or Miro, have people ideate on who you are currently targeting, as well as what are some new target markets your product could go after. By thinking of different audiences, you will be able to come up with new features and use of your product.
Let's say that you've been marketing a smart refrigerator and you've been building features for the home user. However, one of your stakeholders suggested another target market could be nurses as the product could be used in hospitals and clinics and with all of the vaccines needing cold storage, you may have landed on a completely new use for your product during this simple brainstorming activity.
You'll continue brainstorming what needs you're trying to solve for your customers. Too often we think about building features rather than addressing needs, so this conversation flips that way of working upside down.
Next, you'll discuss the product and what makes it stand out from the competition. Those market differentiators are things that your team should hone in on, inspiring new ideas.
For example, let's say that you work for a company that brews coffee by using locally sourced products, which helps build up your local economy and you're working on the online shopping platform. This may inspire your web development team to showcase in the cart how much of their order goes back to the community.
Build in Time for an Innovation Sprint
One of the biggest challenges with innovation is lack of time for thinking. Our teams are typically filled 110 percent with new feature work and are so busy with execution that new ideas don't have time to come to fruition.
A great way around this is to build in a quarterly (or more) innovation sprint, where the team does nothing but brainstorm new ideas, test out assumptions, talk to customers and stakeholders and build out concepts not on the product roadmap.
While this may feel like a large expense, a week or two of this creative and innovative thinking will more than pay off in new product uses and market differentiators.
Join us at our upcoming Certified Scrum Product Owner Workshops!
We talk about building a process of innovation in our Product Owner Workshops, join us at our next one!
Live Events