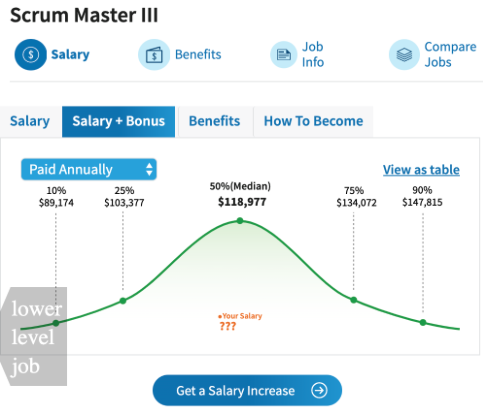 During this time of uncertainty and a world-wide pause, it's a great time to consider a career change. If you're looking for a high-paying, rewarding career that's still in demand, consider becoming a Scrum Master.
Not only is a Scrum Master a rewarding career where you empower and motivate people and positive changes in an organization, it's also high-paying and in demand.
Go Where There's Demand
As billions of unemployment claims are being filed, CareerBuilder has more than 5,000 Scrum Master jobs posted in the United States as of May 6, 2020.
In fact, most organizations have a huge skill set gap in this area since it's not a role traditionally filled by anyone at the company. While many companies try to change the title of their project managers to Scrum Masters, this has proven time and time again to be a failing strategy, unless those people really have the skills and desire to take on a very different role.
LinkedIn ranked Scrum Master as one of its most promising jobs in 2019, showing a 67 percent uptick in job openings in year-after-year growth.
The same article cited collaboration and adaptability in its top 5 in-demand soft skills, both of which are core strengths of a Scrum Master.
Earn More for Your Time
Time is a precious commodity, and who doesn't want to maximize their earning potential? According to Salary.com an experienced Scrum Master earns a median salary of $118,977 USD.
Even if you're just starting out, Salary.com shows a median salary of $77,516 USD which isn't too shabby for an entry-level job.
Training & Certification Make a Difference
You may be wondering if training and certification are needed to be a Scrum Master, and yes, it makes a big difference in your marketability to employers as well as compensation.
Not only that, but you'll be given an opportunity to learn more about Scrum, agile and your role as Scrum Master from an expert as well as other students from different companies.
According to the Scrum Master Trends Report 2019, 44 percent of participants in the study that have a certification reported earning more than $100,000, while only 18 percent of those without a certification reported the same.
Is Being a Scrum Master for Me?
A Scrum Master is much more of a soft-skills role than a technical one. If you enjoy leading teams and organizations through change, coaching others to work differently, facilitating without taking over the room and having sometimes difficult conversations, you'll really enjoy being a Scrum Master.
A Scrum Master isn't a glamorous job, and it requires that you lead teams and organizations without authority to break through the status quo.
If you like fostering relationships with people, you'll really love your new career as a Scrum Master. Plus, the great pay and job opportunities aren't a bad problem to have either.
Lance Dacy is a Certified Scrum Trainer who's passionate about applying Scrum beyond technology to all areas of business and life. If you'd like to become a certified Scrum professional, check out the upcoming class schedule.