Gary Hamel's talk on "The Future of Management" has had a profound affect on me as a leader as well as people that have watched the video in my advanced workshops. It is a call for urgency in regards to how organizations treat its greatest asset; the people working for them. Management 3.0 has a similar philosophy that I thought we would explore in this week's blog.

According to Management 3.0's official website, "It's about working together to find the most efficient way for a business to achieve its goals while maintaining the happiness of workers as a priority." The team is responsible for its management.
Management 3.0 is a collaborative and humanized management model created by Jurgen Appelo, an IT manager, in 2010. It considers employees as the main asset of the organization.
In this article, I will attempt to explain what Management 3.0 is and how you can implement it in your organization.
What is Management 3.0?
Before we dive straight into Management 3.0, we need to understand Management 1.0 and 2.0.
Management 1.0
Management 1.0 has a strong hierarchical structure. The ones at the top make all the decisions, while those at the bottom have little to no decision-making and creative freedom. This basically is for robots, who will perform any task without questioning or improving.
Management 2.0
In Management 2.0, although the people at the top are the ones who make the final decision, people at the bottom also get some opportunity to make decisions. The organization will entertain individual opinions and ideas as long as they do not interfere with top-level management's opinions and ideas. Six Sigma and Total Quality Management (TQM) are some of the modern management tools introduced by Management 2.0.
Management 3.0
Management 3.0 is based on the fact that everyone is responsible for the organization's performance. Management 3.0 hopes to improve business through satisfied employees who are motivated and engaged. Leaders of the organization provide support to the team while the team members work together to activate synergies. This makes everyone feel they are essential to the company as the company considers their decisions as well.
This model can stimulate creativity and innovation, increase motivation and engagement, which in turn improves productivity. It is also able to reduce staff turnover.
Management 3.0 is considered a great project management model for current business requirements involving agile teams.
The image below shows the differences between Management 1.0 and Management 3.0.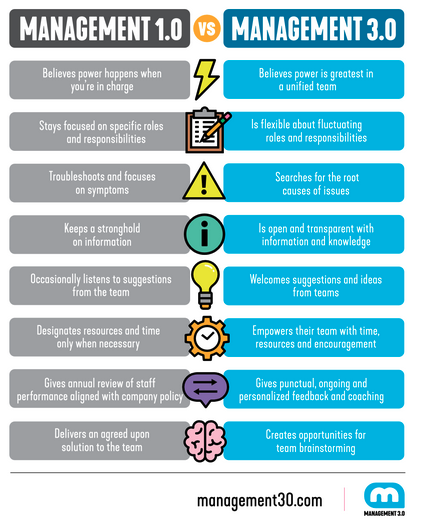 Pillars of Management 3.0
When explaining his theory on Management 3.0, Jurgen Appelo lists six factors as the pillars of Management 3.0.
Energize People
Empower Teams
Align Constraints
Develop Competence
Grow Structure
Improve Everything
Let's take a look at each of these pillars and how it helps shape Management 3.0.
Energize People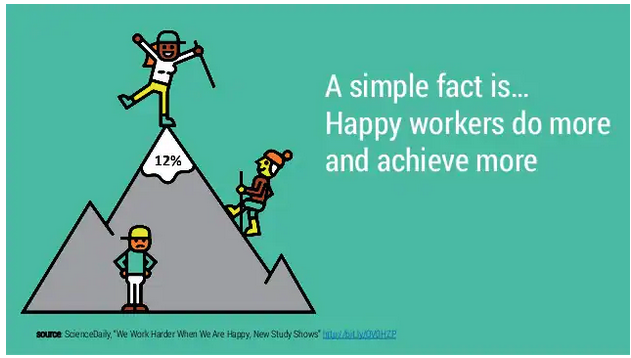 To get any work done, you need energized, motivated people who love challenges and work. To get the best out of your employees, you need to make them happy. This happiness comes from not just the salary. But also from respect. When employees feel that their ideas and opinions are welcomed and respected, they tend to be more engaged in their team's work and motivated to achieve the team's shared goals. Managers can monitor the level of employee engagement and make sure that the team meets its expectations.
Empower Teams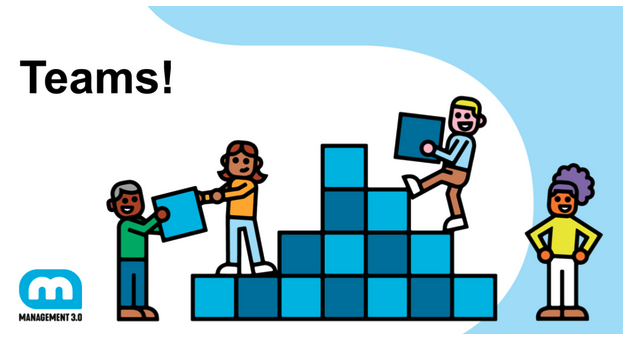 Teams should be able to make decisions on their own. They should be able to self-organize and make decisions among themselves without involving their managers. Managers can create goals for team members that would make them the Subject Matter Experts (SMEs) in that particular team. This further enables the autonomy of the team and allows employees to take on new responsibilities.
Align Constraints
Giving 100% free will to a team is also not effective. Instead, the top management should create guidelines highlighting which areas they will get involved in when it comes to decision-making to achieve the organization's shared goal.
Develop Competence
In 3.0 management, apart from making the team members SMEs of specific areas, managers also need to make sure their team members have the necessary technical skills and are up to date to fulfill the market requirement. Managers can set up training sessions and establish reimbursement plans to help employees follow online courses and professional certifications. They can also add this training to employees' yearly goals and follow-up.
Grow Structure
Once you have established a successful self-organizing team, it is time to move on and add another self-organizing team to your company. This will allow the company to explore new limits, markets, and options to deliver value.
When adding new teams, make sure they are composed of the correct dynamics. In addition to that, you need to make sure your teams can complement each other effectively, as a collaboration between teams guarantees successful growth.
Improve Everything
Regardless of how successful you are now, you need to thrive for continuous improvement. You can do this using tools to measure the improvement of achieving goals in various levels such as global, sector, and/or individual.
Management 3.0 and Agile, how do they fit together?
Due to the fluidity of the above pillars, Management 3.0 looks pretty similar to Agile. It may also be the reason it works well in agile. It is easy to combine these pillars of Management 3.0 with Agile and Lean.
However, there are differences between the two. For example, Agile consists of methods, frameworks, and structures that help you improve the quality of your deliverables. In contrast, Management 3.0 helps you further enhance the quality of your work through management.
Implementing Management 3.0
Your team or company must be performing well even right now. However, if you want to improve the quality of your work, the best way to do it is to implement Management 3.0 in your organization. But before you do that, you must first make some changes around your company as below.
Create an environment that allows your employees to get fully involved.
Recognize employees' achievements and reward them for good performance.
Have one-on-one conversations with employees and align expectations.
Create a flexible hierarchy for generating ideas and making decisions.
Build interdisciplinary and self-organizing teams.
Management 3.0 Use cases
Management 3 .0 has been used by many companies and has been fruitful. For example, The Brazilian company <AmbevTech> became the country's best place to work for and increased customer satisfaction by 78% after one year of adapting Management 3.0. (Read < AmbevTech>'s success story here). The Spanish software company Keepler was also successful in creating self-empowered teams after applying Management 3.0 concepts. (Read Keepler's success story here).
Click here to find more successful applications of Management 3.0.
Conclusion
Management 3.0 believes employees are the most valuable asset the company has. Therefore, its' primary focus is to recognize employees' achievements and add value to their efforts and opinions. When employees are respected, they feel motivated, and it increases their engagement and productivity, which affects the company's overall productivity.
Lance Dacy is a Certified Scrum Trainer® who's passionate about applying Scrum beyond technology to all areas of business and life. If you'd like more education or certifications related to this topic, check out the upcoming class schedule.