Dwight Eisenhower was one of the greatest military minds and responsible for countless decisions during one of our world's most dire times (WWII). When I was in leadership training at FedEx (many years ago), I was exposed to the 4D's of prioritizing my tasks as a leader (Delegate, Delay, Discard, Do). I used this for many years and finally decided to try it out for our Product Team back in the early 2000's.
It worked great. It is simple and easy to understand and you can make it visually appealing by putting sticky notes on a board to represent the features and then move them around as the stakeholders debate. Not only did it work for me personally in my own leadership endeavors, but proved valuable for large group facilitation as well.
What is the Eisenhower Decision Matrix?
The Eisenhower Matrix is a technique that helps prioritize tasks, categorizing them into four key attributes based on their importance and urgency. It is also widely used by people worldwide to prioritize their work and list tasks. Also known as the 'Urgent-Important Matrix' or 'Eisenhower Box,' it is, from another hand, an effective time management framework.
The matrix is a 2×2 grid, as shown in the following image. This matrix uses the Y axis to represent the important and not important work, and the X axis determines the urgent work. Therefore, each square box represents the share of urgency and importance of the features you consider prioritizing. If you want to decide the priority of a particular task/feature, you need to determine to which box it should belong.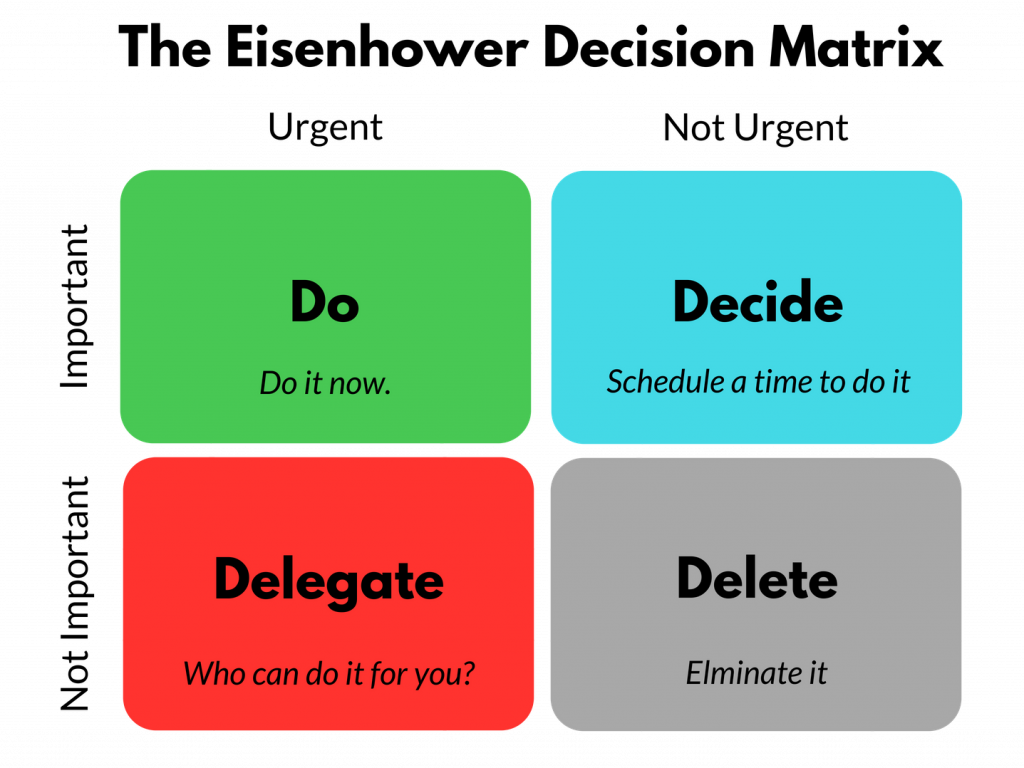 By categorizing tasks into these four boxes, the Eisenhower decision matrix lets you quickly determine which task is the most important and what tasks you can discard. For example, let's say your team will implement your website's search functionality. You can determine how important that functionality is based on the business requirements and customer impact. Following is how you can determine the priority of your tasks. If the task/feature is
Urgent but unimportant, delegate or assign someone else to do it for you.
Urgent and unimportant, you can eliminate such tasks and save your teams' valuable time for much more important features.
Not urgent, but important to decide if you can do it now or allocate a specific time to complete it.
Urgent and important, they are of high importance and time-sensitive. Thus, you must do such tasks now or prioritize them as high-priority features.
The history of the Eisenhower Decision Matrix?
US President Dwight Eisenhower invented Eisenhower's Decision Matrix. While serving as a US Army general, president of the United States, and NATO commander, Eisenhower used this method to deal with many risky problems.
With such high-level authority, he has many responsibilities requiring effective time management. Therefore, he wanted everyone to identify their priorities. Eisenhowers claimed that the most important and urgent tasks must be identified and prioritized first to manage time effectively. Later, this decision matrix became famous in Stephen Covey's book "The 7 Habits of Highly Effective People". Now, it is being used by many businesses as a decision-making and prioritization framework.
How to use the Eisenhower Decision Matrix for feature prioritization?
After having the backlog of epics or features for a road map, the product team wants to prioritize, get together with everyone involved and decide to which category the epics/features belong. Before starting this exercise, teams need to agree on what criteria they will use to define the importance and the urgency. For example, is it urgent because the majority of users need it? Can we say features are important if they impact the performance of a component or users' perception? Etc.
Here are some things to consider when you do this exercise.
Decide urgent but unimportant tasks.
These features are not important to achieve the overall business goals but need to be completed within a short period. Many features can fall into this category but never put so much effort into doing these tasks and wasting energy on them. The rule of thumb is not to waste your immediate resources on such work but delegate them to someone else or a different team. Better delegation allows your teams to focus on what matters the most and eliminate unnecessary spending.
Decide not urgent and unimportant tasks.
These are obvious tasks that do not directly or indirectly impact a company's business goals and customer satisfaction, which need to be eliminated from the backlog. Or else, if you think these are nice-to-have features, better keep them to work on time when the teams have the required bandwidth.
Decide not urgent but important tasks.
You can identify these types of tasks by their sense of importance. They are the ones that are essential to implement to meet the company's strategic goals but can wait for some time to complete. But, these tasks need to be completed within the organization without delegating to some external party. Therefore, you must set aside some time to complete this kind of work in the future when no important and urgent work remains in the backlog to complete.
Decide urgent and important tasks.
These are the most important tasks that need to be completed within a short period and directly impact overall business goals and customer satisfaction. They need to be completed as soon as possible and must be the organization's top priority. Stakeholders must take immediate action on allocating the budget and resources to complete them without any hindrance. In addition, urgent and important tasks should never compromise quality.
After this exercise, the product team can understand the things they should eliminate and give immediate attention to. This visual representation of task priority gives teams a better understanding of their roadmap. Therefore, Eisenhower's Decision matrix is a very effective and easy product prioritization technique.
Conclusion
Naturally, we aren't at war with the criticality of our decisions, but in a way, we are. The next best product is always right around the corner and in this hyper-competitive landscape, you must ensure that our customers are being serviced to the highest regard. Prioritization of the features for that product is of the upmost importance. Try applying the 4D's in your everyday work or with your stakeholders for prioritization.