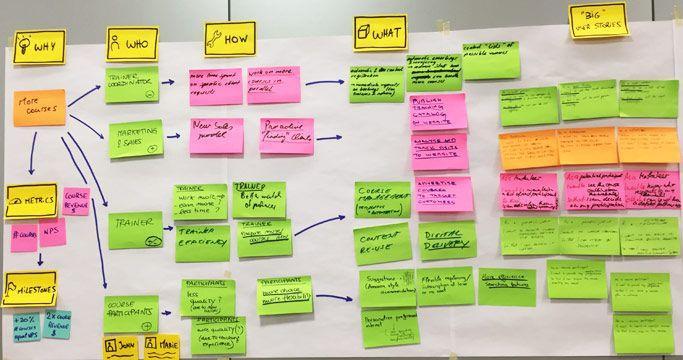 Are you struggling with how to create your product backlog? You have a business goal but you are still unsure how to continue? Let me introduce you to impact mapping and why this is beneficial for building a backlog based on your business goals in no time.
Impact mapping is a graphic planning technique driven by business goals. It has similar principles to story mapping, however the impact map is structured around business objectives and intended people behavior that lead us to specific deliverables. It can be created in a single brainstorming session and quickly developed into a product backlog.
Overview
Impact map is created in four easy steps:
Defining a business goal - Here you should specify what is your business goal and why.
Defining actors - Actors or personas are the people who are going to help you achieve your goal. Actors may include end users, employees and even competitors (with the question how they would impede you from achieving your end goal).
Defining Impact - Once you have identified your actors you should point out how each actor can help you achieve your objective and what is their intended behavior.
Defining Deliverables - This is the part where you come up with specific actions from your side that are helping your actors' intended behavior. Deliverables may result in features, epics or user stories afterwards.
We have everything required, so let's create an impact map together in just a few minutes. For our example we will use a new commercial platform.
Step one
We should define the business goal. Our commercial platform is pretty new, we have a small user base and we want a realistic goal.
For the next year we target an increase in our revenue by 15%.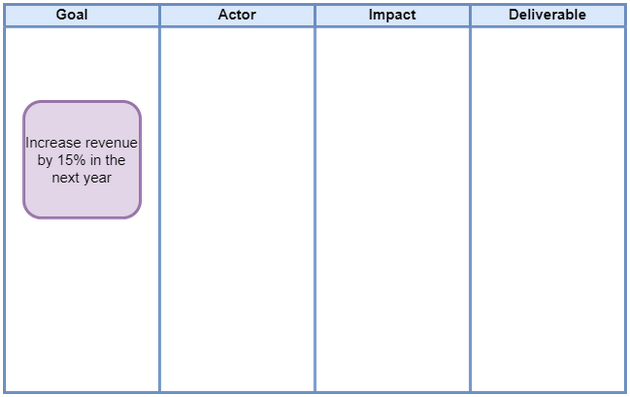 Step two
Now we have to define our actors that will help us achieve the 15% growth. We should list as many actors as we can and be very specific about their persona, qualities and wishes. Let's start with describing two actors.
Ann: Ann is a fashionista. She always buys things from the latest collection. She wants to keep up with all of the trends. She shops a lot, doesn't bother much about the price, but wants to be sure that she will have everything needed for the new season right on time.
Dave: Dave shops when he finds a good deal. He isn't looking for trendy pieces. He has a few favorite brands and often buys their garments on sale. He is happy when he finds the best price and loves a good deal.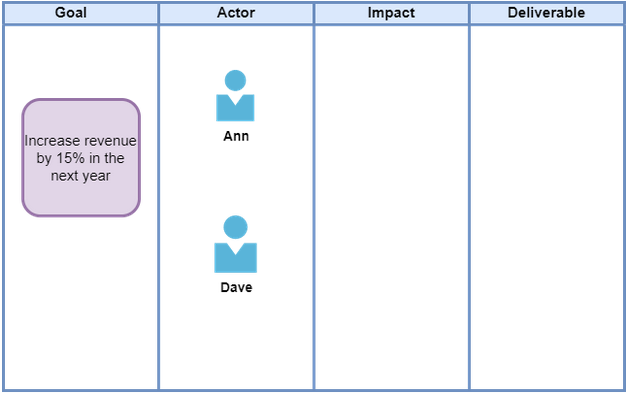 Step three
We have our goal defined as well as the people who will help us to achieve it. Now we should describe their intended behavior that would get us there.
Ann: We want her to spend more time on our platform. The more she browses, the more trendy pieces she will see and eventually purchase.
Dave: We want him to increase his average order value since he often buys in bulk on sales day.
Here you can list all behaviors that will result in getting you closer to your objective.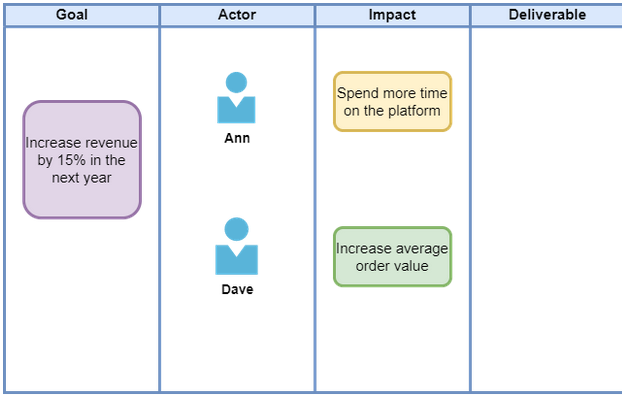 Step four
In this final step we want to have our specific deliverables. Deliverables should be focused on the things that we do to help our actors achieve their intended behavior and actions.
Ann:
Propose fast shipping
Make trendy looks section with whole outfits instead of individual pieces
Suggest personalized content based on her social media following
Dave:
Notify him for the latest sales by email
Suggest sales such as buy a second product for -40%
Membership deals for users only - the more you shop from the platform, the better discount you will get on your next purchases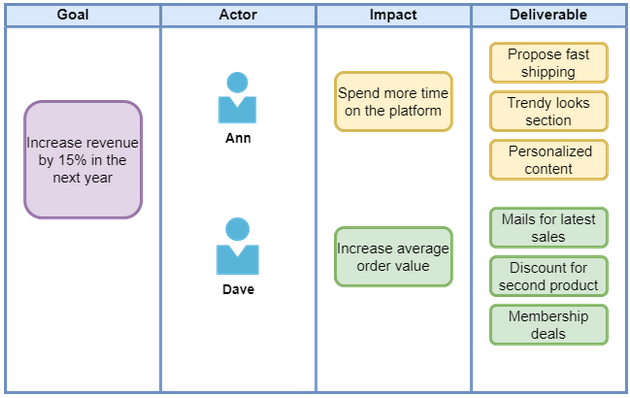 Now that we have all deliverables listed on the map, everything we should do is prioritize them and assign stories (or epics if bigger) for each.
With this simple but effective technique you are able to quickly create an impact map that is transferred in a product backlog based on your business goals. Also this way you have a solid foundation that can be developed further, at a later stage of your project.
Lance Dacy is a Certified Scrum Trainer® who's passionate about applying Scrum beyond technology to all areas of business and life. If you'd like more education or certifications related to this topic, check out the upcoming class schedule.