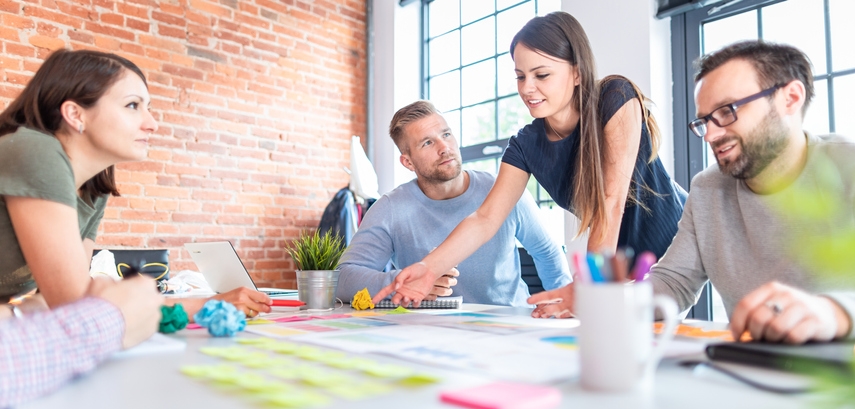 Just because a group of software developers popularized Scrum doesn't mean it's a technology framework. In fact, their inspiration actually came from a white paper called The New New Product Development Game, which had a lot more to do with business than tech.
For the past 20 years, Scrum has been a widely used framework in software development and we've seen great strides being made in pockets of organizations.
This next wave of agile, however, is about business agility, not software development. Business agility is about the entire enterprise aligning around agile principles & values.
With Scrum being a framework for agility, we've found it's effective in many other parts of an enterprise including marketing, human resources and finance.
According to ICAgile, an accreditation organization that runs a business agility track in all of those areas, marketing was their fastest growing area in 2019.
Let's take a look at how marketers are using Scrum and how they're changing it up a bit from software teams.

___________________________________________________________________________________________________________
Marketing today has changed so much and whereas companies used to be able to sell, now it's all about personalization and dialogue with customers.
___________________________________________________________________________________________________________

Different Terms, Same Concept
While the goals and purposes of Scrum don't change in marketing, some of the terminology has been modified to make it more applicable to marketers.
The product backlog is often referred to as the 'marketing backlog' since marketers aren't actually building any products.
Marketers are often using the term 'marketing owner' over product owner because once again, they aren't developing products.
In software development, user stories were created to help developers understand how an end user uses a system, such as a web site. In marketing, this doesn't make sense, so marketers refer to stories as 'customer' stories and focus on the 'who', 'what' and 'why' to better understand how a marketing deliverable benefits a prospective customer.
In software development, requirements documents are traditionally heavyweight and create a stage-gated process for getting work started. In marketing, creative briefs and customer personas are similar in that they've traditionally been worked on for weeks before doing any 'real' work.
Marketers are adapting to agile by writing 'brief briefs' that describe the creative strategy rather than concrete directions. And whereas personas could often take weeks, marketers are using a minimally viable persona technique to start with what they know and iterate.
Shorter Sprints in Marketing
In marketing, a lot of work has shorter cycle times than in software development, so marketers who work in digital marketing, social media, public relations and other quick-turn types of work are finding one week sprints optimal. A lot of teams have found having all Scrum meetings on one day and eliminating most other meetings throughout the week really streamlines how they manage work.
Micro-Campaigns vs. Product Increments
Scrum in software development is about product increments and getting a piece of software potentially shippable each sprint.
In marketing, most work is done as campaigns. Traditionally, marketers have used a big bang campaign approach where the entire campaign is planned upfront and then a big event happens where the pieces of the campaign get blasted out.
Just like in software development, upfront planning doesn't allow time for adjusting plans. With agile marketing using Scrum, marketers are able to test and learn from smaller campaign elements, using data to inform them of what to do more of and what to stop.
A large bank that uses Scrum in marketing applied this test and learn approach leading up to a major television ad campaign. Before spending millions of dollars guessing their messaging was correct, they iterated on music, messaging and used small test audiences for early rapid feedback.
Benefits of Scrum in Marketing
Marketers are notoriously overworked and are constantly switching gears. Having a single prioritized backlog with a single point of contact prioritizing the work has helped marketers be more focused, less frazzled and has built better alignment and transparency to leaders about what the team will work on next.
Marketing today has changed so much and whereas companies used to be able to sell, now it's all about personalization and dialogue with customers. By getting marketing out in a sprint with the idea that it's meant to test and learn has allowed marketers to pivot their messaging to better resonate with people.
Marketers today need to be able to respond quickly to the marketplace and so many large companies have been plagued with siloed teams and lengthy approval processes. With Scrum, the baton hand-offs are eliminated bringing everyone needed to do the work in a single team. And if the team is really empowered, many sign-offs can happen as peer reviews, allowing for much faster delivery.

Lance Dacy is a Certified Scrum Trainer who's passionate about applying Scrum beyond technology to all areas of business and life. If you'd like to become a certified Scrum professional, check out the upcoming class schedule.